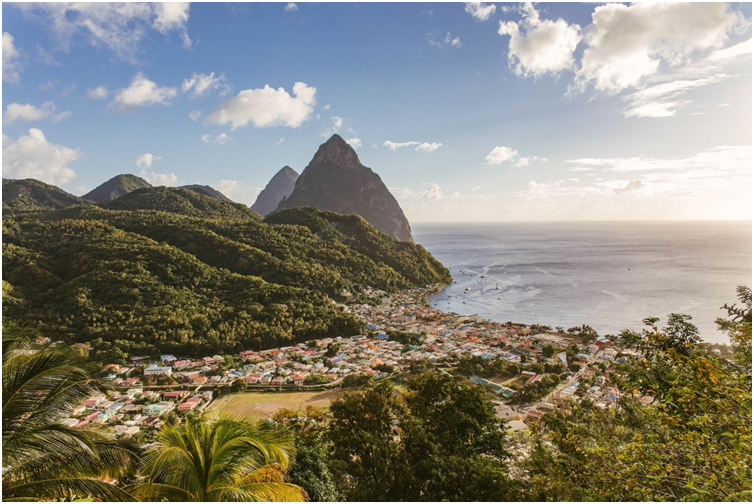 St. Lucia is a beautiful island country in the eastern Caribbean Sea. It is renowned for the stunning scenery of its beaches, volcanic mountains, and dense rainforests. It's easy to understand why St. Lucia is such a popular vacation spot for people worldwide. The island has glorious yearly weather, stunning natural scenery, and welcoming folks. Despite its small size (only 238 square miles), St. Lucia is a popular tourist destination. One of the most visited spots on the island is the Pitons, a pair of imposing volcanic peaks that rise dramatically from the sea. Visitors may climb to the peaks' tops and take spectacular landscape views. Sulfur Springs, accessible by car and including hot springs and mud baths, are another popular tourist spot in the area.
St. Lucia's beaches are often cited as one of the island's best features. This island is home to some of the Caribbean's most stunning beaches, with their powdery white sand and emerald-green water. The island is home to several beautiful beaches, some of the most well-known being Reduit Beach, AnseChastanet, and Marigot Bay. Water sports enthusiasts may choose from many options at these beaches. Some of them include swimming, snorkeling, kayaking, and sailing.
St. Lucia is a fantastic destination for adventure seekers. The island has many exciting activities, such as going catamaran sailing or ziplining through the bush to find hidden waterfalls. Scuba divers and snorkelers frequent the island because of its proximity to several reefs and shipwrecks. St. Lucia is an excellent option for a holiday where you can kick back and relax if you're looking for a more low-key retreat. Several luxurious spas and health retreats on the island provide various services, from massages to yoga classes.
Additionally, visitors can stroll the island's botanical gardens or shop the island's local markets for unique souvenirs. St. Lucian cuisine has a rich history and draws from many different civilizations, including Africa, India, and Europe. Grilled fish, roti, and callaloo soup are some of the island's most famous dishes. Fruits, including mangoes, pineapples, and papayas, are grown locally and are available to visitors. The island's rum is also very popular, and several of the island's distilleries host visitors for tours and tastings. Visitors to St. Lucia may choose from various villas, hotels, and other accommodations to suit their needs and budgets. Most of the homes on the island are located right on the beach, giving visitors easy access to the water and stunning vistas.
Many visitors to St. Lucia say that staying at Villa C'est La Vie is the highlight of their trip. The most crucial step in planning a trip to St. Lucia is booking a villa in advance via villacestlavie.com. Temperatures on the island are often in the middle to high 70s to upper 80s Fahrenheit, making it a tropical destination. Since the wet season runs from June to November, tourists should pack accordingly. Travelers planning to rent a car on the island should remember that driving is done on the left side of the road. It would help if you kept this truth in mind at all times.
In conclusion, Saint Lucia is a beautiful and vibrant island that caters to visitors of all ages and interests. St. Lucia is a fantastic holiday destination since it has something for everyone, whether looking for adventure, rest or a little bit of both. Why would anybody be surprised that the Caribbean is a popular tourist destination year after year? The area has stunning scenery, delicious food, and welcoming people.